Professional's Breakfast
"Hinge Moments: Making the Most of Life's Transitions "
led by Dr. D. Michael Lindsay
You are invited to join your friends from The Journey for our upcoming
Professionals Breakfast on Thursday morning, October 21.
This Professionals Breakfast will be held online via Zoom from 7:00-7:55am.
The Coronavirus has instigated a lot of transitions in our work, our families, our relationships, our finances, our health, our living situations and more. These transitions are moments in time in which we have an opportunity before us to make a change or to respond to a situation. According to Michael Lindsay, president of Taylor University, these are "hinge moments" - opportunities to open (or close) doors to various pathways of our lives. Following God closely in these moments can change our lives for the better, and getting them wrong can pose problems for years to come.
In this special 55-minutes Professionals Breakfast hear from Dr. Lindsay's about learnings from his new book Hinge Moments: Making the Most of Life's Transitions and his ten-year study of 550 leaders. You will learn both practical and spiritual insights to help you make the wisest decisions when you face transition in life.
Here is the Zoom link/call-in number for the meeting. Just join us online 5 minutes before the Zoom call is scheduled to begin at 6:55am.
Zoom -
https://zoom.us/j/94868964678
Password: journey
Call in Option: 929.436.2866 + Meeting ID: 948 6896 4678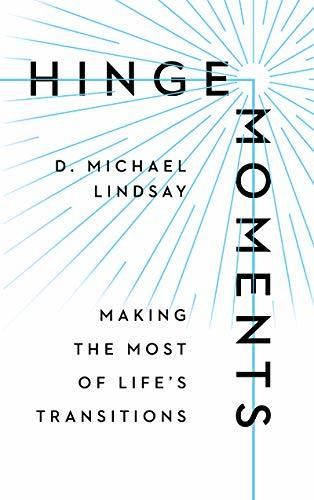 ***We will also give away several FREE copies of Dr. Lindsay's new book - "Hinge Moments: Making the Most of Life's Transitions."
Led By: Dr. D. Michael Lindsay
D. Michael Lindsay is president of Taylor University in Upland, Indiana. He previously served as president of Gordon College, in Wenham, Massachusetts. Earlier in his career Lindsay was a member of the sociology faculty at Rice University, where he won multiple awards for both his teaching and scholarly research. Lindsay's Faith in the Halls of Power was nominated for the nonfiction Pulitzer Prize in 2007. His book View from the Top won two awards and has been translated into Chinese and Japanese. Lindsay has lectured on six continents and works tirelessly to create opportunities worldwide for students, faculty, and staff. He earned his PhD in sociology from Princeton University and has graduate theological degrees from Wycliffe Hall at Oxford University and Princeton Theological Seminary.